Trekking Socks
Yarn:
Trekking XXL
Needles: Size 2 Addi Turbo 12" circulars, Size 2 Brittany dpn's
Pattern:
Yarnharlot's Basic Sock Recipe
I saw the show on Knitty Gritty with guest
Stephanie Pearl-McPhee aka Yarn Harlot
and de
cided to give it a go. This was a very easy pattern to do. I'm not crazy about the Trekking XXL yarn. The yarn is sort of rough. On the other hand these are really sturdy socks.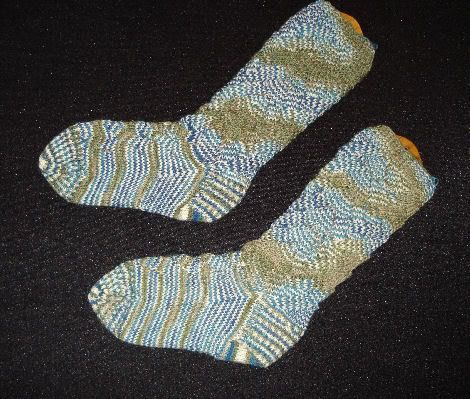 Saucy Socks
Yarn:
Lorna's Laces Shepherd Sock Yarn
, color 203 Seaside
Pattern:
Cider Moon S
aucy Pattern
Needles: Size 0 Addi Turbo 12" circulars, Size 1 Brittany dpn's
I love this yarn and will definitely use it again. I didn't get a good shot of the stitch definition. I'm still playing with my new camera and don't have the technique down yet. Please bear with me.
Next up:
Tidal Wave Socks
Yarn: Soy Silk's
TOFUtsies
I'm loving this yarn so far. I haven't done much work on them because I'm trying to get the shawlette done. Afterwards though I plan to knock these out.
I'm gearing up for
Summer of Socks 2007
hosted by Jessica. While browsing her blog I came across these
sock blockers
that she got. So I hopped over to this
site
and ordered a pair. My spinning wheel blockers are fabulous.
I also noticed she's teaching a toe up sock class at
Woolbearers
. As I'm still new to sock knitting, I decided to take the class. I'm a horrible student so wish me luck!! Class begins tomorrow.