Hello everyone. I'm finally back to blogging. I know it's been weeks but it has been a busy summer.I have a lot of reading to catch up on via bloglines, I haven't visited there in weeks either. I see there have been some changes here at blogger.
In July my aunt died. She was the last sibling of my father. I took a quick trip down to South Carolina with my mom and my sister for the services. My mom stayed down there because she was going down anyway later on in the month. So was I. Despite the sad occasion it was a nice reunion with many of my cousins most of who I only see once every two years at our semi annual reunions.

On July 30
I flew down to Myrtle Beach. I met a friend from school there. Tina lives in NY but for years she has been busy taking care of her mom who died last year from Alzheimer's. Even though we talk frequently we hadn't spent anytime together in years. So we met up in Myrtle Beach. My trip down there was horrible. My flight was cancelled by the airlines and rebooked for the next day. No way, I wanted to leave that day and I did end up getting on a flight via Atlanta. (I w
on't get into specifics but the Delta employees at the Philly airport are terrible.) I get to Atlanta and sat there for hours waiting on a flight to Myrtle Beach. That airport was a nightmare, delays and cancellations galore. Talk about unhappy passengers everywhere. Well I finally get to Myrtle Beach late that evening. Tina ended up only having to wait two hours for me so it wasn't a bad trip for her. Okay, so I'm there but my luggage isn't. I was told that it probably wouldn't get there to the next day. Great! We pick up a rental and head to the Marriott Hotel. So I ended up buying clothes and necessities perfect excuse for visiting the Tanger Outlets. There are two Outlet Centers there and we visited both. Between the two of us we did some damage. Mine compliments of Delta Airlines which I will never voluntarily fly again. We went to one Outlet Center the next day and were wondering where everyone was as it was basically empty. It was so hot that we decided to go back to the hotel and get in the pool. Well we didn't stay in long, even in the water it was too hot to be outside. Later that night we went to the other Outlet, lo and behold it was packed. We realized, people come out at night because of the heat. The next day we visited Ripley's Aquarium at Broadway on the Beach. We just did the aquarium because it was so hot. That night we went to dinner at Phillips Seafood House then revisited Broadway on the Beach. Again, the place was packed with people. We enjoyed ourselves and vowed to do a trip next year to celebrate our 50th birthdays. Hmm, where are we going, Australia maybe??? We'll see.

Anyway the next day (August 2) I drop Tina off at the airport and head towards Charleston. I had booked a villa at the Short Stay Navy Recreation Center located in Moncks Corner, SC. I met up with my mom there who arrived with the cousins she had been staying with. They stayed with us for a few days. Then my aunts and uncle arrived from New York. The next week was nice and relaxing. It was still very hot, hotter than normal for that time of year. I was able to spend a great deal of time with a cousin who is in a nursing home due to a freak bike accident. I also spent some time with another childhood friend, something I can't go into now but will at a later date. At the crack of dawn on August 11, my mom, aunts and uncle left for their ride back to NY. I got to say that the van they were in was packed! They did some damage in the stores down there. (Come to think of it, when I drove down for my aunt's funeral a few weeks earlier, my sister and I did quite a bit of shopping. My RAV4 was packed on the way back LOL! After all there is a lot of stuff that you don't find in NJ or NY that you find in SC. You gotta love those Super Walmart Centers, we don't have those here in NJ). Anyway soon after they left I checked out of the Villa (I didn't want to give up those keys) went to see my cousin in the nursing home, then headed to Charleston Airport where I dropped off my rental and began my journey home. I am happy to say that my flights home were uneventful.
I'm home for two weeks, back at work. What a long two weeks this was.
Then September 1, my friend Gail and I head to Vancouver, British Columbia. We left Philadelphia International Airport at the crack of dawn, flew to Toronto (that was an experience because we had to get our luggage and go thru Customs). We made our flight to Vancouver by the skin of our teeth, we literally had to run through the airport. The flight from Toronto to Vancouver was 4 hours, I was so tired (neither of us had went to sleep the night before we left) that I slept most of the way. We land in Vancouver (three hours time difference), collect our luggage and head to the port were we board our cruise ship, Royal Caribbean's Serenade of the Seas.
The first night on board we didn't go to the sit down dinner, we had the seating, which was to us. We needed to get caught up with the time change so it was an early night for us.
September 2 was spent cruising the Inside Passage. It was starting to get pretty cool so we didn't spend a lot of time on the balcony of our state room or on deck. We explored the ship, left a donation in the casino, and ate, ate, and ate. We made it to dinner this night and met our tablemates Candice and Janine. They were also two friends who met thru work, just like Gail and I. After dinner we headed to the theater and saw the show, a comedian who was pretty funny.
September 3 we arrived in Sitka, Alaska. What a beautiful day. We had scheduled a lot of our excursions ahead of time and for Sitka we went kayaking which was a lot of fun. I didn't get any pictures of Gail and I in the kayak but I took plenty of the scenery around us. We saw tons of trout jumping up out of the water, some eagles and the cutest seal putting on a show for us. I tried to get his picture but he was too fast for me. We were told all day by everyone we encountered that this wasn't the normal weather in Sitka and we were grateful for a beautiful day out on the water. Back in town we explored Sitka a bit then headed back on board. We tendered in Sitka, that was the only stop where we didn't dock in port. We ate lunch then relaxed a bit. We visited the hot tub in the ship's solarium. We had made appointments in the spa for facials and massages later than evening. We figured we'd try and head off as much soreness as possible. And it worked. This night was the first formal dinner so we dressed up, went to the Captain's Cocktail party, dinner, then the show which was put on by the Ship's dancers.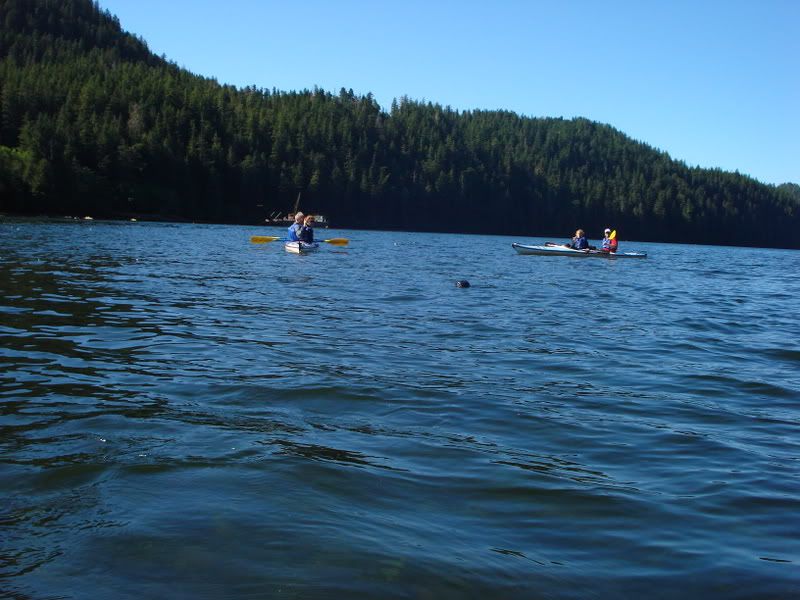 To be continued tomorrow. Meanwhile here are some pictures from my vacations.