Last night's
Sew In
was successful as far as I'm concerned. I managed to finish this paper pieced stain glass quilt top after working on it for almost two years.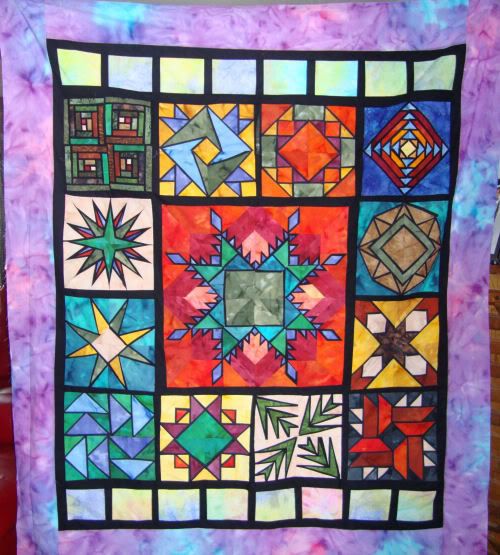 This paper pieced quilt was a block of the month project at
Piecing with Grace
, my local quilt store. The first time I visited this store, I was admiring the quilt hanging in the shop. A woman came up to me and asked if I liked it. I said I loved it and that I wished I had the skill to do that. She said to me I could have you paper piecing in 30 minutes. Of course I didn't believe that but she said when you are ready to learn come back to the shop and I'll teach you.
Well after a lot of thought a few weeks later I paid another visit to the shop and this wonderful lady taught me how to paper piece. It took a little longer than 30 minutes but by the time I finished my first block I was hooked and signed up for the block of the month which ran from July 2008 to June 2009. I originally had the dates posted March 2008 to March 2009, oops.
After I completed the 12th block I was able to purchase the finishing kit which consisted of the center piece and the borders. When I saw the million pieces in that centerpiece I said to myself you are never going to finish this project. But I did. I took my time and worked on it when I could. I had the center pieced together in about a month. Then I put the entire project away until last weekend when I picked brought it out to start assembling the top.
The picture below shows various stages of the making of this "paper pieced stain glass" quilt top.
I must say that I am extremely happy with this quilt top. Now I have to find a nice backing for it and then I can have it quilted. I am extremely grateful to the wonderful person who taught me this technique. BTW she's the one who made the quilt that was hanging in the shop and she's the mother of the 3 sisters who own the shop.
Looking forward to the March sew in. Maybe I can finish up another project.