The theme for
Val's
latest
Hot Mama Apron Swap
was Alice in Wonderland. You had to create an apron and include at least three tuck ins that fit theme. Here is what I created for
Bridget
, my partner for this swap. I made all the tuck ins (bag, oven mitt, potholder, embroidered bar mop towels) except for the book and pen. I had a lot of fun doing this.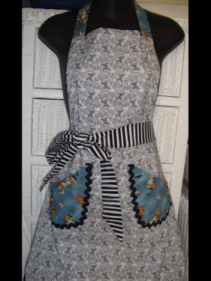 Now this is the swap package that I received from
Maggie
.
There was one other item. I think it was an ornament but it was broken.