I just returned from a family cruise. This is the third pre holiday cruise we've taken. This go round we met in Fort Lauderdale and sailed to Jamaica and the Cayman Islands.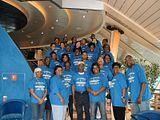 Some of the gang. 32 of us went this trip.




My sister and me.




My three kids and their friends.